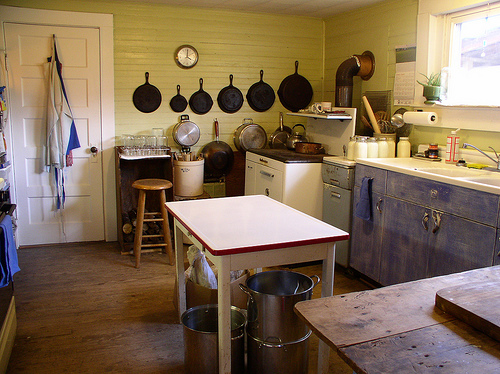 Everybody loves to eat, yet not many people love to cook.  Check back often for easy recipes that will make your family and friends wonder where you bought those delicious baked goods from.  Keep it a secret or tell them you found it at Farmhouse Fruit!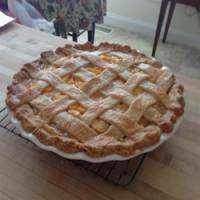 Chef John's Peach Pie
Original recipe makes 1 10-inch pie.
PREP: 30 mins
COOK: 1 hr 15 mins
READY IN: 2 hrs 15 mins
Ingredients:
3 pounds fresh freestone peaches, peeled and sliced
1 cup white sugar, divided
1 tiny pinch salt
1/4 cup all-purpose flour
1 tablespoon cornstarch
1 teaspoon lemon juice
1 pinch cayenne pepper
1 pinch ground cinnamon
1 pastry for a 10-inch double crust pie
1 1/2 tablespoons butter, cut into tiny pieces
1 tablespoon heavy whipping cream, or to taste
1 tablespoon white sugar, or to taste
Steps:
Preheat oven to 350 degrees F (175 degrees C).

Stir peaches, 1/2 cup sugar, and salt together in a bowl. Let sit for 20 to 30 minutes. Strain accumulated juices into a saucepan and return strained peaches to bowl.

Bring juices in saucepan to a boil; reduce heat to medium-high, and cook until mixture thickens to a syrup, 5 to 10 minutes.

Whisk 1/2 cup sugar, flour, and cornstarch together in a bowl. Stir lemon juice, cayenne pepper, and cinnamon into peaches; add flour mixture and toss to coat. Pour peach syrup over peach mixture and stir.

Roll out half the pastry to fit a 10-inch pie plate. Place bottom crust in pie plate. Pour peach filling into pie shell, tap pie plate against a surface to settle filling, and dot with butter.

Roll remaining crust into an 11-inch circle and cut into 1-inch strips using a paring knife or pastry wheel.

Lay 5 strips of pie crust over the top of the pie. Weave remaining pastry dough strips through to form a lattice top. Fold the ends of the lattice strips under the bottom crust and crimp the crust. Brush cream over the top and sprinkle with 1 tablespoon sugar.

Bake in the preheated oven until browned and bubbling, about 1 hour 15 minutes. Cool completely before slicing.
Sourced from Allrecipes.com
http://allrecipes.com/Recipe/Chef-Johns-Peach-Pie/Detail.aspx